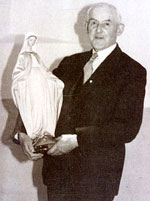 Servant of God, Frank Duff
founder of the Legion of Mary
34th Anniversary Mass at the
Celebrant: Bishop Eamonn Walsh
Below From Frank Duff's writings;
I have said that Our Lord, while He was on earth, conformed to the limitations of His body. Now we must not impose those limitations. We must submit ourselves to Him in the responsive way that His physical body did. It is true, as we have seen, that now and then His Body, so to speak, surrendered to nature. He was tired and He could go no further, and His feelings overcame Him. But, that was momentary. Immediately the faithful instrument, His humanity, revived and went on with its work.
If you read the pages of the New Testament, you see the unalterable devotion of His life. It would be impossible to imagine a greater degree of devotion. We know that never for one second did His devotion flag; that every moment was full of that urgent eagerness, that ardour to do His Father's will, that hunger for souls. We must, I was going to say, reflect that utter devotedness, but the expression is inadequate. Because it is not a case of reflection. His love is in us, for we are part of Him.
So rather we must radiate His solicitous love for mankind. If we let ourselves be the medium for that radiation, He will put forth His power and achieve His plan. You will remember the story in Scripture where the woman pressing to get near Him managed to touch the hem of His garment. Forthwith as He says Himself; power went out from Him. No-less, will happen if we try to realise our destiny in Him. Then power will go out from us no matter how weak we are. We are his up-to date garment of flesh. For all our poverty and misery and sinfulness, He is eager to use us. Indeed He constrained to use us, because the Head has need of the members; and you are members who humbly place themselves at His disposal.